Voted Best Chai at the Toronto Tea Festival
Chai Accessories
Chai Kettle

Regular price

Sale price

$57.00

Chai glasses

Regular price

Sale price

$19.00
Featured collection
Spice up!

Regular price

$26.00

Sale price

$24.00

Caffeine Free Treat!

Regular price

$28.00

Sale price

$26.00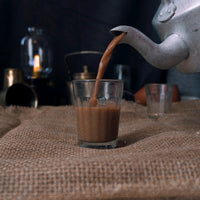 What is Chai?
Chai is the Hindi word for tea! And yes, its just Chai and not Chai Tea!!
Chai is usually prepared by brewing spices and herbs with black tea for 3-5 minutes in water and milk. The blend of spices and the proportion of milk and water changes for each region and each house - the recipe for authentic Chai is unique for everyone :)
Our blends at The Chai Brewing Company attempt to recreate the taste of Chai that we have grown up drinking in our homes, and have been inspired by the hundreds of chai blends that we have tasted in different parts of India!